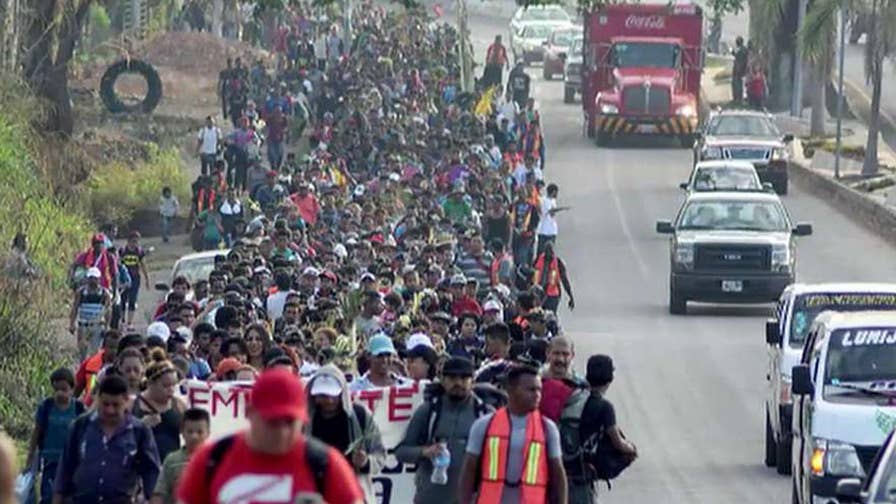 The head of an immigration enforcement think tank is praising President Trump's effort to deal with the approaching migrant caravan.
President Trump has announced a major change in U.S. asylum policy, declaring that the government will no longer allow migrants who jump the border to turn around and claim asylum in an attempt to gain a foothold here. He pledged to end the "catch and release" practice that has led to the arrests of hundreds of thousands of migrants in recent years at the border — migrants who were then turned loose into the country to await future hearings.
"Generally speaking, the president's made it clear that he's going to set up detention tents — tent cities — the kind of thing the military is probably going to do because they've done this before," details Mark Krikorian, executive director of the Center for Immigration Studies (CIS). "So this is something they can do, and that's important because there's a real bottleneck in detention space."
And Krikorian believes being forced to stay in tents might be a deterrent to some migrants.
"If you're detaining people who apply for asylum, and you detain them the entire time that their case is working through immigration court, it's a lot less appealing for people with bogus cases to try apply for asylum," he submits.
It is all about getting to the border and asking for asylum.
"Even though almost none of them really would end up getting asylum if they went through the whole process, it does help them get past the border and past the Border Patrol, and that's the goal," says Krikorian. "The goal is applying for asylum, not getting asylum."
And he believes most of them will get to stay in the U.S.