Venice Allan has been campaigning for a more extensive debate of the Government's plans to make it easier to 'change sex'.Allan was removed from the Labour Women's Network party because of a transsexual person, Lily Madigan, felt "uncomfortable" at her presence.
'Silencing and censoring'
Known as Dr Radfem on Twitter, she said: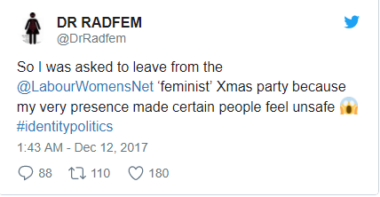 Allan later wrote: "I wanted to speak to other Labour women about the proposals to change the Gender Recognition Act. It was an exceptionally safe space."
She also described it as "an appalling, Orwellian betrayal of women".
A spokeswoman for Labour Women's Network, which hosted the party, said: "It is important that all Labour Women's Network events are a safe and welcoming space for all those in attendance. Sadly, following a number of complaints, we had no choice but to politely ask an individual to leave."
'Uncomfortable'
Madigan recently accused a local Labour Party Women's Officer of "transphobia".
Madigan demanded that Anne Ruzylo be removed from her position in Bexhill and Battle, East Sussex, and suspended from the Labour Party.
Ruzylo had expressed concerns that the fear of being branded 'politically incorrect' is preventing a thorough examination of Government plans to make it easier to 'change sex'.
Pastor Dukes Book now published on Amazon and Kendle Proceeds  to be used to pioneer new work in Yerington NV.
Sister Carol Dukes Book now published on Amazon