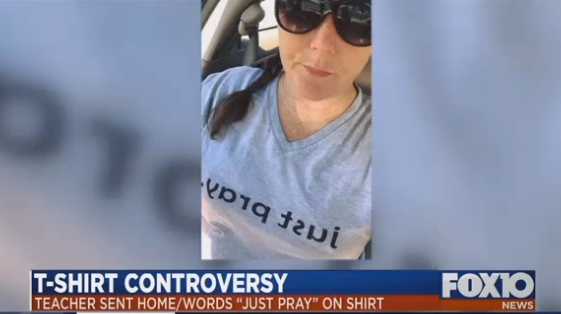 MOBILE, Ala. — An elementary school teacher in Alabama says that she was sent home last week to change after she arrived in a t-shirt that read "Just Pray," which she had purchased in support of a young girl with an inoperable brain tumor.
Chris Burrell, a third grade teacher at Pearl Haskew Elementary School in Irvington, says that she wore the shirt on April 23 not thinking that it would pose an issue. She had purchased it last year in a fundraiser for 11-year-old Aubreigh Nicholas, who was diagnosed with diffuse intrinsic pontine glioma in September.
"I purchased this shirt to raise money for #AubreighsArmy. I thought it was fitting to wear today since my kids were testing," she said in a social media post. "I didn't think twice about it. I wasn't trying to promote religion; it was just my Monday feel good shirt."
However, when the principal saw Burrell wearing a shirt with the word "pray" on it, she asked the teacher if she could put a sweater on to cover the wording.
"[T]he principal said, 'Can you put on a sweater or something,' knowing that there are other people who object to that," Mobile County Public School Superintendent Martha Peek told WALA-TV. "We have to be cognizant of everyone's beliefs or everyone's thoughts [in a public school]."
She said that the principal was following district policy, which states that teachers should refrain from wearing clothing that promotes any particular religion.
Burrell took to social media over the matter, posting a photo of herself and writing, "Getting sent home from work today to change my Just Pray shirt. … In my 15 years of teaching, this has never been an issue. My heart hurts."
The post has now either been deleted or privatized, but hundreds have shown their support for Burrell and/or shared her story.
The teacher will not face any disciplinary action.
"We're totally supporting [Aubrey]," Peek said, referring to the child whose cancer sparked the shirt fundraiser. "I think that this was just an unfortunate connection there, but still the principal would have had to exercise her judgment."
As previously reported, in 1828, just 52 years after the nation's founding, Noah Webster, known as the Father of American Scholarship and Education, wrote, "In my view, the Christian religion is the most important and one of the first things in which all children, under a free government, ought to be instructed. … No truth is more evident to my mind than that the Christian religion must be the basis of any government intended to secure the rights and privileges of a free people."